Sleeze Beez - 1989 - Screwed, Blued and Tattooed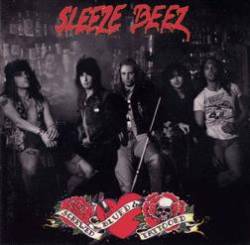 1. Rock In The Western World
2. House Is On Fire
3. Screwed Blue'N Tattooed
4. Stranger Than Paradise
5. Damned If We Do, Damned If We Don't
6. Heroes Die Young
7. This Time
8. When The Brains Go To The Balls
9. Don't Talk About Roses
10. Girls Girls, Nasty Nasty
After lots and lots of review material I wrote, finally I got my own 'account' to upload flashy and sleazy stuff for you fuckers (thanks to Sandy and Tijs). So for that being said, this time I present you a 1989 classic and Dutch (!) masterpiece. Yeah you're damn right: the Netherlands! My native country has left some interesting sleaze metal stains, also marking the American Billboard charts with promising releases over the years. Well, I think Amsterdamned's own Sleeze Beez where the biggest glamboiis in the late 80's the Dutchies had to offer; and with a reason!
Sleeze Beez's major breakthrough started in the summer of '88, when 'Screwed,Blued and Tattooed' was released in the Benelux. After a sold out Dutch tour, the Beez signed a lucrative deal with U.S. based Atlantic Records who release the Billboard-charting album worldwide in '89. Sleeze Beez toured the U.S. in the summer of that same year opening for Skid Row and performing over eighty headline club shows.
So it's Dutch…big deal! It really sounds like a American hair band with the right music and correct English vocabulary and speech. I like to compare it to XYZ with some Skid Row influences and a little sniff of Bullet Boys.
Sleeze Beez uses "Rock in the Western World" as a opener, as well when they play(ed) live in front of thousands of people. It's hard, it's heavy and it speaks for the hardrockin' people living in the western world. You feel the energy and the will from the Beez to kick ass as big as an ass can get. One of the best openers I've heard in years (and no, that's not because I'm Dutch).
"House is on Fire" continues the hardhittin' pace with another Heavy Metal anthem. A catchy chorus, some gangvoxx…yeah…it satisfies me in multiple ways.
The third song is even heavier and faster than the previous tracks. But then again, what would you expect from a title called "Screwed, Blued and Tattooed"? Listening to this one makes your ears bleed, ruining all your other records if you're not careful.
*Drumroll*…tatada! Here we have "Stranger in Paradise", Sleeze Beez's biggest hit. It's a nice mix between a uptempo song with some power ballad influences. No sissy stuff! Be sure to watch their video on youtube.
The follow-ups are rocker "Damned if we do damned if we don't" , the midtempo, typical 'girls drooling all over your boots', "Heroes die young" and the ballad "This Time". Each of them are very well written and produced.
"When brains go to the balls" is a great addition to Screwed, Blued and Tattooed. Sleazy lyrics combined with an AC/DC kinda sound. The leftovers are 'Don't talk about Roses' and 'Girls Girls Nasty Nasty', both worth your money either you like them or not.
Overall, Sleeze Beez's debut truly is a masterpiece. Maybe not compared to classics like Appetite, but it's a damn good effort in my opinion. This Dutch masterpiece is a must-have without a doubt. Don't forget to check out the Beez website: www.sleezebeez.com. I'll pray for some cool shows in Holland and Belgium in the future…you're with me sleazers?
Last Updated (Thursday, 01 September 2011 10:51)
Inksane Tattoo & Piercing