Roxx Gang - 1988 - Things You've Never Done Before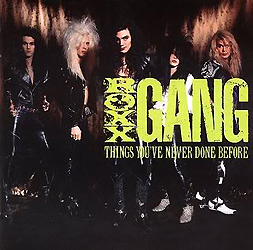 1. Scratch My Back
2. No Easy Way Out
3. Race With The Devil
4. Red Rose
5. Live Fast Die Young
6. Too Cool For School
7. Ball 'N' Chain
8. Fastest Gun In Town
9. Nine Lives
10. Need Your Sex
A couple of months ago, I went to a vinyl store called 'The Record Collector'.  A true Walhalla for 80's fans, 'cause you can find a sh*tload of rare material and when you're lucky: in mint condition. I was glad I had some serious cash with me  folded together in my ripped jeans' pocket…

One of the albums I found that very day was the debut of Roxx Gang, a Sleaze act which emerged from the late 80's Metal scene. Selling over 250.000 copies worldwide thanks to singles like "Scratch my Back" and "No Easy Way Out", Roxx Gang was ready to take it to the next level. Unfortunately, the band disintegrated due to infighting and record company shuffle. After that, vocalist Kevin Steele continued the band with a different line-up, but never achieved the same success as they did previously.

Much of the time, I use this paragraph to describe the band's sound. Well actually, it's pretty damn hard to define Roxx Gang. Vocally it's something fresh, nothing like others, as well as the song build-up. The only thing that's crystal clear: these guys were born to be slutty!
Before I placed this delightful record on my turntable, I took a cold beer from the fridge and fell in my chair.

The first punch to my ear is the single "Scratch my Back", which kicks in like a cat on crack. Nothing special, only to mention it really gives you the itch."No Easy Way Out" is the other hit single. It's a heavy rocker, but doesn't have the same up-tempo pace as "Scratch my Back". A smooth song, vocally interesting, and catchy ( you probably won't sing a long with it). Two great starters.

The next one's up: "Race with the Devil". Although good, it's nothing more and nothing less than an "okay" track compared to their hit singles. "Red Rose" gives a bluesy, moody twist to Roxx Gang's repertoire. Probably the idea for the forced 'ballad on your album in order to do well'. It's not bad, but you won't see me smilin' when this song is played. "Live 'Fast Die Young" doesn't pull it off in my opinion; skip this one.

Starting side B, "Too Cool for School" hits my speakers. It takes you onto the freight train, in the vein of "Scratch my Back". Cheesy lyrics but a killer track. "Ball 'n Chain" is a refreshing mix of Hard Rock and Country music. Maybe not the most interesting of the set list, but it's a welcome change.

After the Country Bob influences we continue with "Fastest Gun in Town". And that's what you'll get: a fast pace rock anthem. You love it speedy? This track is all you need.

The final two cuts are "Nine Lives" and "Need your Sex". The first-mentioned has a more mainstream sound compared to the others. Roxx Gang blows out with "Need your Sex". Moaning is not uncommon here…This is a good one.

Concluding, I think 'Things you've never done before' is a good album, but far from excellent. Roxx Gang is repeating the same old trick over and over again. Nothing wrong about that, but some variety would have been nice. But then again, you won't find this kind of goodlookin' rockers anywhere, at anytime. And besides that, this album won't disappoint you either!


Last Updated (Friday, 02 September 2011 09:15)
Inksane Tattoo & Piercing