Kissin' Dynamite - 2010 - Addicted To Metal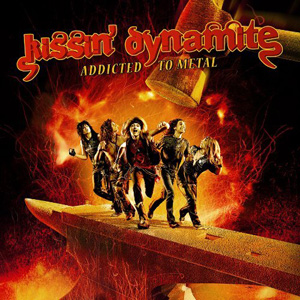 1. Addicted To Metal (ft. Udo Dirkschneider)
2. Run For Your Life
3. Supersonic Killer
4. High Enough
5. Love Me Hate Me
6. Hysteria
7. All Against All
8. In The Name Of The Iron Fist
9. Assassins Of Love
10. Why Can't You Hear Me
11. We Want More
12. Metal Nation
What a treat! Germany's greatest on the first track of the second Kissin' Dynamite album. Udo Dirkschneider in person takes on "Addicted To Metal" and sets the tune for yet another beer-waving riff fest.
Right from the start, it seems that the Swavian guys have bettered their already great performance on "Steel Of Swabia". They continue bringing a very metal-ish blend of hardrock in a style that can only come from their home country.
They've grown a lot musically in the two years between their debut and second album, but the general feel remains the same: this is party music. Down a few beers and get yer air guitars out for this one, you'll need them.
Great, cliché hooks, powerful riffs and anthemized choruses proves that Kissin' Dynamite belongs on stage, and preferably a big one. Hopefully, the cooperation with Mr. Dirkschneider will provide them with that very stepping stone.
Flirting with NWOBHM, power metal and just plain hardrock on "Run For Your Life" and what follows on the album, they prove that Kissin' Dynamite is an awesome songwriting machine, fit to draw big crowds.
More than with "Steel Of Swabia", they show that this is their biggest quality, and as mentioned by the great Udo, he's sure they will follow the footsteps of Germany's greatest (once they retire, of course).
It's obvious that the boys did a lot of boundary-exploring as well, testing what they can get away with ("Hysteria" moves away from the pumping beats and sort of drags along, "All Against All" is over-the-top theatrical, almost power metal-like, "In The Name Of The Iron Fist" is pure epic metal, you name it, they do it!)
They set the style with "Steel Of Swabia" and feel no need to repeat this with "Addicted To Metal". Instead, they take you on a musical journey, much like the title already suggests, and do so with flying colours. Every song is worth the listen and re-listen, but the album as a concept stands out completely.
Pick this up and enjoy!
Last Updated (Sunday, 22 August 2010 11:57)
Inksane Tattoo & Piercing